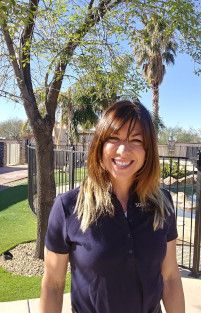 Jennifer Mobley
Art Therapist
Jennifer is a provisionally registered art therapist, licensed associate counselor, and nationally certified counselor. She has over 10 years of experience working as a clinical therapist in the mental health field. She has developed art therapy programs for local agencies in Phoenix.
Her passion is facilitating counseling sessions in which clients can experience healing, growth, and somatic integration using their inherent creative processes. She utilizes a trauma-informed lens to guide her practice, using visual art making and the expressive arts to help clients foster insight, shift perceptions, and explore possibilities. Using an eclectic method that embodies a person-centered, existential, and strategic approach to the healing arts, Jennifer believes first and foremost in the human potential for change, and the resilience of the human spirit. Each session and group experience is tailored to the needs of the client. Clinical work is built on the value of the authentic, empathic, and therapeutic relationship.
Jennifer has also had the honor of creating and facilitating numerous trainings and workshops over her career in the mental health field, specifically on art therapy as a profession and practice for a variety of populations. She has considerable training from the Milton H. Erickson Foundation, in strategic and Ericksonian methods for counseling, and in the use of clinical hypnosis in therapy. She received her Bachelor of Science degree from Minnesota State University (Moorhead) in 1999 in Studio Art and Art Education (Summa Cum Laude), and her Master of Arts in Counseling Psychology and Expressive Arts Therapy in 2011. She lives in Phoenix where she enjoys painting in her home studio, hiking valley trails, practicing yoga, exploring spiritual growth, experiencing live music, and a health-seeking lifestyle.