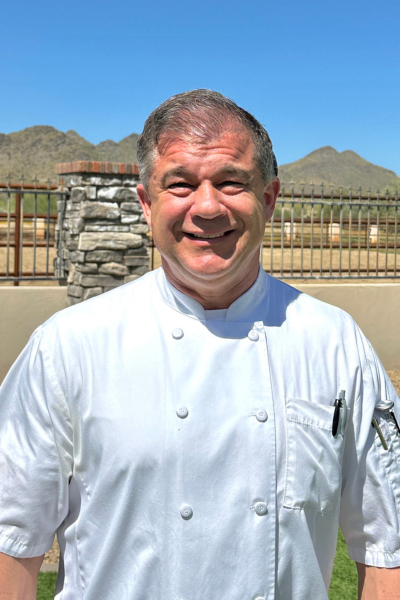 Steve Sourdo
Executive Chef
Steve Sourdo serves as the Executive Chef at Soberman's Estate and is a recent addition to the Cave Creek, Arizona community.
Originally from the Washington, D.C. area, Steve pursued his culinary education at Baltimore International Culinary College, earning his degree in professional cooking in 1992. He fine-tuned his craft in a variety of upscale restaurants and elite catering services around Baltimore before securing an executive role at a prestigious private club in Washington, D.C., where he catered to a clientele of notable figures.
After a successful decade in the nation's capital, Steve transitioned to a role as Executive Chef at an exclusive golf and tennis facility in Potomac, Maryland. For 15 years, he thrived there, showcasing his extensive knowledge of international cuisines.
Deciding it was time for a career hiatus, Steve accepted the role of General Manager at a therapeutic riding facility focused on assisting children with autism. Operated by a nonprofit organization, this position allowed Steve to make a meaningful impact on the lives of exceptional young individuals, enriching his own life in the process.
Eventually, Steve found his way to Cave Creek, Arizona, where he has been able to reignite his passion for culinary arts. He considers himself fortunate to have joined the team at Soberman's Estate, where he continues to "give back" to the community by offering nutritious and delicious meals to the estate's guests.