"Both life-saving and life-improving."
I have worked closely with the founder and CEO of Soberman's Estate since 2008.
I recommend Soberman's Estate to professionals that suffer from substance use disorder as I've witnessed the life-saving and life-improving results of this recovery program.
Our Approach
At Soberman's Estate, we have dedicated ourselves to providing whole-person wellness for men seeking out treatment services at a premier rehab center for their substance-use disorders, without forgetting to address all of the co-occurring issues attached to their struggle. Our focus is on adult men who are seeking rehabilitation with discretion.
Persons in high-profile professional positions who wish to pursue rehab for alcohol or drug dependency sometimes hesitate to make their need for care known to others. This is why we provide residential treatment with a great deal of attention paid to our clients' privacy.
We understand the particular pressures professionals and executives deal with every day, and the challenges that come with stepping away from their tightly scheduled lives. In the fast-paced world we all live in, it often seems impossible to find the time we need to do what we must to take care of ourselves. Keeping this challenge in mind allows us to address substance dependencies existing in high-pressure worlds. By helping our clients slow down and heal, we continually witness them leaving our center with an understanding of the importance of self-care, empowered with the tools they need to live life better in their complicated, fast-paced worlds.
Here, in our exclusive residential treatment center, we provide a nurturing environment and a compassionate voice to help our clients feel confident that they can live joyful, addiction-free lives. Take a Virtual Tour of our facility.
We hope that you will allow us to guide you toward wellness and to free you from your substance dependence in our beautiful treatment program in Sonoran desert of Arizona .
A World Class Residential Luxury Rehab Center in Arizona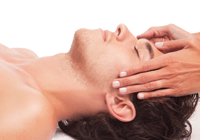 Clinical Excellence
Successful alcohol and drug rehabilitation treatment requires excellent clinical care from qualified staff. Each and every one of our clients in our alcohol and rehab treatment center is treated with respect and dignity and are provided the personal attention they deserve. We recognize and understand that every man who enters our treatment program is an individual, with very specific needs and goals. As a vital part of our physical, emotional, spiritual, and holistic approach to wellness and recovery, Soberman's Estate Treatment Program includes evidence-based modalities and various other therapies customized as needed for each individual's recovery. Our high staff-to-client ratio means each man who comes to us seeking treatment in our center receives the highest quality care that can be offered. We are dedicated to the health and wellness of each client, and we place a great deal of importance on providing excellence in every aspect of our residential program. We have also been approved as a provider for the AZ Medical Board and provide a 3 Day Comprehensive Evaluation Assessment Program (CEAP) for licensed clinical providers. We are fortunate to employ an experienced team of leading treatment professionals, each highly-respected in their fields. This ensures that everyone who comes to our caring center seeking to end their substance dependencies receives the finest clinical treatment available. We pay close attention to every detail of your stay in our luxury rehab center, and our experts design your private treatment program specifically for you, with attention to your individual needs. Our success comes from your success.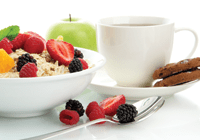 Culinary Experience
At our premier treatment program, we know that, without exception, eating the healthiest foods available to us is vital to our overall wellness. Proper nutrition positively affects every aspect of our health, from our mental acuity to our physical strength. Knowing what foods are best for us to eat, and how to prepare them, is a simple and necessary aspect of living well. That is why clients who seek treatment at our rehab center are educated to understand their dietary needs. While learning about the important relationship between food and living a health-filled life, our clients are served first-class meals prepared by Soberman's Estate's executive chef. Our premier treatment program boasts unparalleled attention to meal planning, a fact easily recognized in the quality of the delicious foods our clients eat and learn to prepare. The culinary experience is just another of the many special features of Soberman's Estate premier treatment program that set us apart from other rehab centers in Arizona.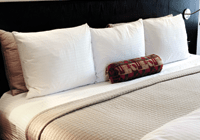 Comfortable Accommodations
Clients of Soberman's Estate enjoy private or semi-private rooms or suites with five-star quality queen-size beds. Studies show, sleep is important and is a valuable part of any healing experience. Beyond our rooms, our spacious facility is situated within our 5 acres of beautiful Arizona desert landscape. The property includes everything needed to rehabilitate body and spirit. Our beautiful pool features a soothing rock waterfall offering a haven for relaxation. A putting green and gardens provide oases in the desert landscape. A grotto, fire pit, and labyrinth offer spaces where you can reflect and relax. The stables and arena offer extensive space for our equine-assisted modalities and blends in with a magnificant view of the desert landscape and mountains. With all of the beauty and activities we offer to clients working through recovery, Soberman's Estate is known as one of Arizona's premeir, private residential treatment centers.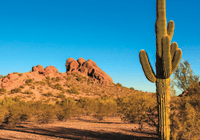 Private Surroundings
All of our clients experience the unparalleled healing nature of the Sonoran Desert, the only place on earth where the majestic Saguaro cacti dominate the landscape. Much of the wildlife found in this part of the world is native only to the Sonoran Desert. There is no other place like this. Set within five acres, the size of our facilities allows us to ensure discretion and privacy for all who seek treatment here. Clients are bolstered by the feeling of serenity and the quality of relaxation enjoyed in these surroundings. The desert helps to feed the soul, while we rehabilitate the body and spirit. Soberman's Estate is setting a new standard for private rehab facilities, not just in Arizona, but throughout the Southwest. Our confidential, executive rehab facilitiy is designed to cater to the special needs, luxury standards and quality of life our clients are accustomed to. The private tranquility of the desert and its wildlife creates the ideal setting for recovery and renewal from alcoholism and drug dependency.