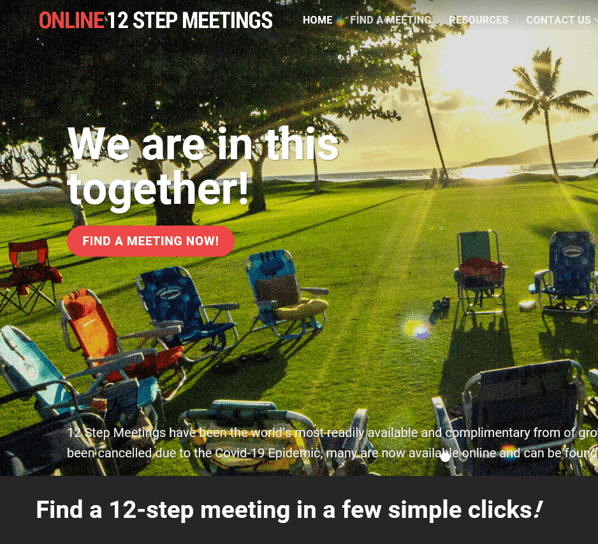 In these difficult times with COVID-19, we have seen many people find solutions to problems they thought they would never have.
Soberman's Estate is responding innovatively to COVID-19.
With the elimination of in-person 12-step and group support meetings, Soberman's Estate created an online directory of virtual meetings.
Although just recently launched in April of 2020, this online meeting directory already has over 300 weekly online meetings posted across 17 categories of support groups.
www.online12stepmeetings.com has helped many visitors find online 12 step or support group meetings. Larry S. of Phoenix, AZ shared, "I've missed my home group for four weeks and yesterday I found my home group on your website and attended my first zoom meeting and it was great to see my AA buddies and I feel like a new man!"
The simplicity of adding a meeting or looking up a meeting is one of the greatest features of the website. In addition to listing or finding a meeting, there are links where users can find additional resources.
Soberman's Estate is proud to support our recovering community. If you or someone you know can benefit from an online 12-step or group support meeting, please share this website.
About Soberman's Estate: With only 5 Beds on 5 acres Soberman's Estate has become a popular place to sequester and Recover! The Estate will expand to 10 beds the summer of 2020. The recovery program of choice for men to recover from addictions and underlying behavioral health issues is Soberman's Estate. Soberman's Estate is a confidential, discreet, licensed residential treatment center located 30 miles north of PHX international airport. Soberman's Estate has developed an integrative addiction recovery program that effectively treats all addictions and underlying mental health issues. We understand the specific needs of the adult men and if you or someone you know, is considering treatment for addiction, please call 480-595-2222 for a complimentary consultation and please visit www.SobermansEstate.com