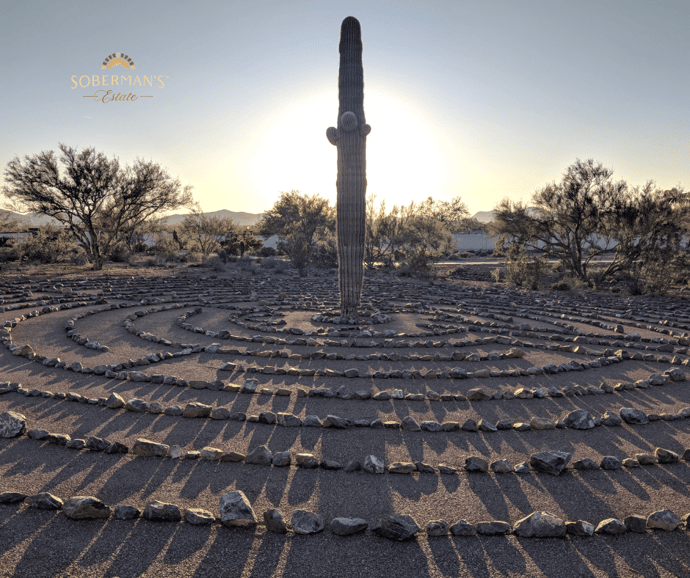 If one were to make a pilgrimage today to Chartres France, they would find an 800+ year old Cathedral and on the floor of that cathedral is a famous walking path called a labyrinth. Many books and articles have been written about the famous Chartres Labyrinth and the miracles that have occurred to those walking this ancient path. Before Soberman's Estate opened in Cave Creek, Arizona a team of professionals worked for months to recreate the exact 34 turn Chartres Labyrinth on the grounds of Soberman's Estate. Soberman's Estate is a State Licensed, Nationally Accredited, World Class Behavioral Health Residential Center specializing in helping professional men recover from alcoholism and other addictions. The 2 differences between the Chartres France Labyrinth and the Soberman's Estate Labyrinth are the Soberman's Estate Labyrinth was built outdoors around an ancient saguaro cactus and the path was created using indigenous purple jasper stones. Clients walk the Soberman's Estate Labyrinth as a moving meditation and for many activities including our Commencement Stone Ceremony.
Having walked the Labyrinth daily for years, the team at Soberman's Estate is joyful to celebrate "World Labyrinth Day" as we have seen The Power of the Labyrinth for Men in Recovery!
World Labyrinth Day is an annual event that takes place on the first Saturday in May, dedicated to promoting the labyrinth as a tool for personal, community, and global peace. The labyrinth is an ancient symbol that has been used for meditation, reflection, and healing for thousands of years. At Soberman's, we believe in the power of the labyrinth as a tool for men in recovery.
What is a Labyrinth?
A labyrinth is a complex maze-like design, often found in medieval cathedrals and temples, that has been used for spiritual and therapeutic purposes. Unlike a maze, a labyrinth has only one path that leads to the center and back out again. This path represents a journey and the center is a place of stillness and contemplation.
The Benefits of the Labyrinth for Men in Recovery
Bi-Lateral Stimulation: Similar to how EMDR and ART utilize Bi-Lateral Stimulation, the ancient, silent, left right walking pattern stimulates a sense of calm and peace: The repetitive and meditative nature of walking the labyrinth can help to calm the mind and reduce stress, promoting a sense of peace and well-being.

Encourages reflection: The labyrinth provides a space for reflection and introspection, helping men in recovery to gain insight into their thoughts and emotions.

Supports spiritual growth: The labyrinth can be used as a tool for spiritual growth, connecting individuals with their inner selves and a higher power.

Promotes physical health: Walking the labyrinth is a gentle form of exercise that can help to improve physical health and wellbeing.

Enhances mindfulness: The labyrinth encourages mindfulness and being present in the moment, helping men in recovery to overcome distractions and focus on the present.
At Soberman's, we recognize the importance of holistic healing and the role that the labyrinth can play in supporting men in recovery. On World Labyrinth Day, we encourage everyone to explore the benefits of the labyrinth and to experience its power for themselves.
In conclusion, the labyrinth is a powerful tool for personal growth and healing, and we believe it can play a crucial role in the recovery journey of men. We invite you to join us in celebrating World Labyrinth Day and to learn more about the benefits of the labyrinth by visiting the following resources:
The Labyrinth Society: https://labyrinthsociety.org/

Veriditas: https://veriditas.org

World Labyrinth Day: https://labyrinthsociety.org/world-labyrinth-day

At Soberman's Residential Treatment Facility, we are dedicated to providing men in recovery with the support, care, and tools they need to succeed. If you or a loved one is struggling with addiction, please reach out to us for help. Our team of experts is here to support you on your journey to recovery.

https://www.sobermansestate.com




Soberman's Estate is a residential men's addiction treatment center that provides discreet, individualized, sophisticated recovery and wellness services for adult men that want to recover from substance use disorders, and or other behavioral issues such as trauma, anxiety, depression, stress, or other addictions.
Read More
Topics: Treatment, Healthy, Mental Health, mindfulness