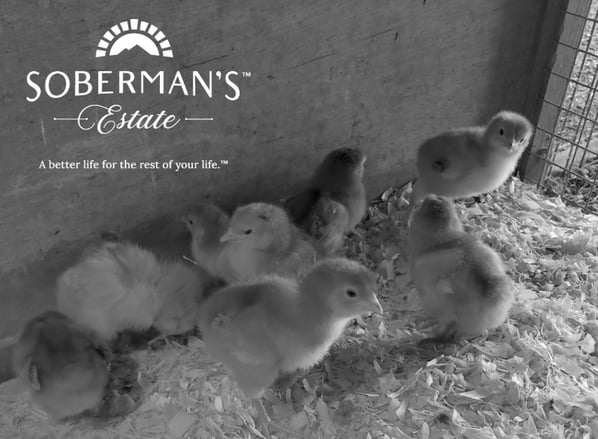 "From Farm to Table" is the goal for Jesse Busch, Executive Chef at Soberman's Estate.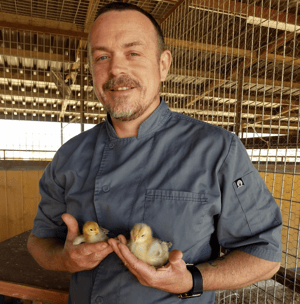 "I grew up living on a farm and have experience raising chickens and growing organic gardens. There is a spiritual connection when you grow your own vegetables." says Chef Jesse. Of course these chicks will grow up and start producing eggs, but Chef Jesse has a grander vision. His plans include introducing goats for fresh goat milk, an orchard and multiple greenhouses to incorporate organic produce into the Soberman's Estate menu.
Chef Jesse intends to create a holistic atmosphere where clients can engage by picking fruit, gathering produce, or even milking the goats if they want.
Chef Jesse has created Signature Soberman's Estate culinary delights including nutritious granola, trail mix, smoked nuts, and whole grain breads. Chef Jesse has 5 Star Resort Hotel experience and works closely with the Soberman's Estate Dietitian and Nutritionist to regularly customize client menus to address dietary restrictions. .
With only 5 Beds on 5 acres Soberman's Estate has become a sought after place to quarantine and Recover! The Estate will expand to 10 beds during the summer of 2020. The Individualized Recovery Program of choice for men to recover from addictions and underlying behavioral health issues is Soberman's Estate. Soberman's Estate is a confidential, discreet, licensed residential treatment center located 30 miles north of PHX international airport. Soberman's Estate has developed an integrative addiction recovery program that effectively treats all addictions and underlying mental health issues. We understand the specific needs of adult men. If you or someone you know, is considering treatment for addiction, please call 480-595-2222 for a complimentary consultation and please visit www.SobermansEstate.com