As the holiday season draws near, it's a period deeply rooted in gratitude, a sentiment that resonates profoundly with our endeavors here at Soberman's Estate.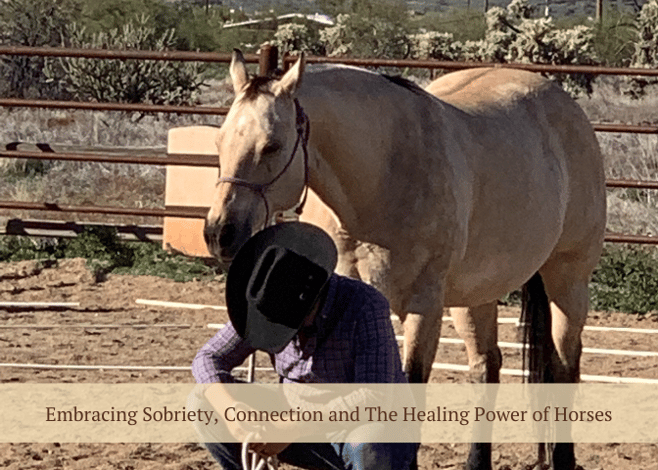 One of the things that I personally am most grateful for, are the amazing opportunities that I have in the ability to share my horses with people who are struggling. I have the honor of witnessing such profound healing and transformations all the time.
Through my daily work at Soberman's Estate, a sanctuary of recovery for men, I am often presented with the most heartwarming interactions. Just today, a particularly memorable encounter with one of our alumni profoundly moved me. This gentleman, a testament to the resilience of the human spirit, returned to our center with his wife in tow, eager to show her the haven where he embarked on his sober journey and rediscovered his authenticity. Our team welcomed them right from the driveway, enveloping them in the warmth of heartfelt embraces.
As I greeted him, an immediate thought struck me: he was the picture of health and happiness. Although we've stayed in touch, with him sharing snippets of his family life through pictures, seeing his progress in person was an entirely different experience. Our conversation was brief, soon steered by his anticipation, mirrored in my assurance: "She's waiting in the barn!"
The reunion he was most eager for was with Bailey, my little buckskin mare. Throughout his stay, he often shared how this magical creature had been such a strong pillar in his recovery. The bond they shared was noticeable the moment he stepped into her stall. Witnessing their heartfelt reunion, complete with emotional embraces and equine affection, was deeply moving.
Understandably overwhelmed, he reflected on his last time here, fresh out of detox. Committing to a treatment program, although scary, is a brave step onto the path of healing. This courageous soul was determined to overcome his challenges and start on his journey into sobriety and a renewed life.
His joy was unmistakable, even through tears of overwhelming happiness, solidified by my affirmation, "Of course, she remembers you." While he reconnected with Bailey, I had the precious chance to converse with his wife, ensuring she, too, was navigating this new chapter with grace. I cherished this moment of connection.
Observing him now, almost a year into his journey, wholeheartedly embracing life and his loved ones, is nothing short of miraculous. It's a stark reminder of the opportunities for renewal that many might not find. Knowing that a gentle creature like Bailey could significantly influence his healing journey fills me with an indescribable sense of peace and joy.
This profound experience underscores the essence of what we do here. It's not just about guiding men on the road to recovery; it's about nurturing connections, with oneself, loved ones, and sometimes with beings as intuitive and therapeutic as horses. These moments of triumph, love, and connection—they are the very milestones we cherish, reminding us of the transformative power of empathy and the enduring hope that is possible in every individual's journey.
If you or someone you know are struggling and wondering about the next step for receiving help, please call our Admissions Director for a complimentary consultation at 480.771.9241, or email info@SobermansEstate.com
Soberman's Estate is a residential men's addiction treatment center that provides discreet, individualized, sophisticated recovery and wellness services for adult men that want to recover from substance use disorders, and or other behavioral issues such as trauma, anxiety, depression, stress, or other addictions