Have you ever felt stuck, like you've taken a tumble in life that you just can't recover from? Or perhaps you're one of those who can easily rise, dust off the debris, and push forward without looking back. This resilience—or lack thereof—shapes not only our experiences but also our journey toward recovery.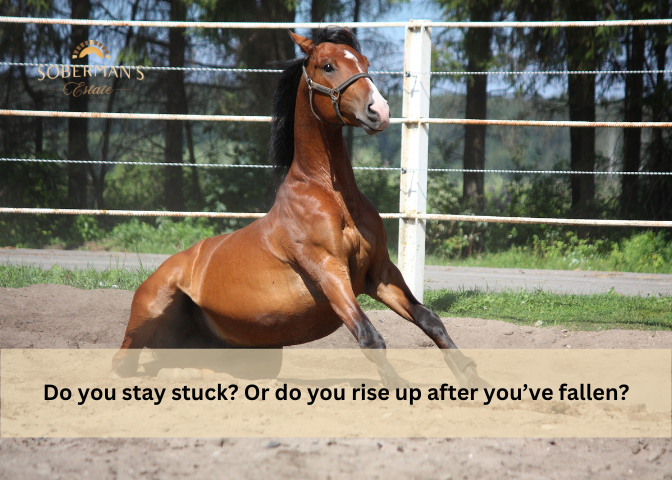 Imagine, for a moment, navigating the ups and downs of life as a young horse embarking on his first adventure out from the safety of a fenced arena. Take Dreamer, my young colt that was about 18-months old at the time, for example. On his inaugural trail ride, he faced an array of obstacles—a few daunting logs, a challenging incline, and even a shallow stream to cross. He accomplished each task impressively, gaining confidence despite the gusty winds that can unsettle even mature horses. Dreamer was handling the ride with confidence, grace and ease.
As my husband and I were riding back towards home, we were discussing how impressively Dreamer had performed. As the ride neared its end, however, Dreamer stumbled. Falling forward onto his knees and right shoulder, he nearly toppled over entirely. Yet, he managed to compose himself quickly. With just a subtle lift of the reins from me, Dreamer found his balance and returned to a stand. As if nothing happened, he resumed walking, carrying me safely back home. Upon arrival, the remark was made, "I'm glad you both survived the fall." A simple yet profound observation that prompted my reflection on resilience and recovery.
Now, translate this to the human experience, particularly those of us grappling with addiction, mental health issues, or other life challenges that have landed us in a space of feeling stuck, and perhaps even needing to seek help. Like Dreamer's stumbling moment, our lives are often filled with obstacles, some of which cause us to stumble or even fall. When this happens, do we attribute our setbacks to external forces or internal failings? Do we fixate on the past, or allow ourselves to stay down, trapped in destructive patterns?
The good news is, you have a choice. While we may not control every circumstance that comes our way, we absolutely possess the power to control our reactions. More importantly, we can choose to seek the support we need to rise again. Just like the subtle lift of reins helped Dreamer find his balance, sometimes it takes a professional guiding hand to help us regain ours. This is where the right treatment facility plays an invaluable role. Through a supportive environment, expert guidance, and a community of individuals who share similar struggles, you gain the tools to not just "survive the fall," but to stand tall, rediscover your path, and proceed with a renewed sense of purpose.
Both of us could have been seriously hurt… but that's NOT WHAT HAPPENED! So the next time you find yourself stumbling, remember: how you respond to the fall matters most. Embrace the support, make the choice to rise, and continue your journey toward a fulfilling life. After all, recovery is not just about surviving the fall—it's about learning to rise stronger. I hope you are able to stand up tall, brush yourself off, and keep enjoying your ride!
If you are struggling, we are here to help support you on your journey to recovery. A great first step is to find an experienced and qualified therapist near you who specializes in addiction. A directory of therapists can be found here. If you are wondering about the next step for receiving help, please call our Admissions Director for a complimentary consultation at 480.771.9241, or email info@SobermansEstate.com.
Please reach out! www.sobermansestate.com
Soberman's Estate is a residential men's addiction treatment center that provides discreet, individualized, sophisticated recovery and wellness services for adult men that want to recover from substance use disorders, and or other behavioral issues such as trauma, anxiety, depression, stress, or other addictions.