"Welcome everybody, to the Commencement Stone Ceremony for our client, David. As you know, at Soberman's Estate, we do not use the word graduation, we use the word commencement because it's a beginning," said Mitch Prager, Founder and CEO of Soberman's Estate, to his team.
A Commencement Stone Ceremony is unique to the Soberman's Estate Rehab experience. "Our clients work very hard to get where they are in life. They are so deserving of having all their hard work celebrated and recognized," said Sandi Starr, Operations Supervisor.
Before the ceremony, clients spend time with Counselor and Art Therapist, Jennifer Mobley, MA, LPC, ATR, NCC. Jennifer says, "clients choose their stones based on intuition, selecting from the landscape a stone with form, colors and textures that appeal to their personal aesthetic. The stone is a representational object; in a sense, a concretization of their thoughts, feelings, and responses to their new life of sobriety and freedom. After choosing a stone, the client is encouraged to paint an image symbolic of their transformation during their time of healing at Soberman's. These stones are a transitional object of sorts for our clients, symbolizing their journey, hope, renewal, and redemption gained during their treatment."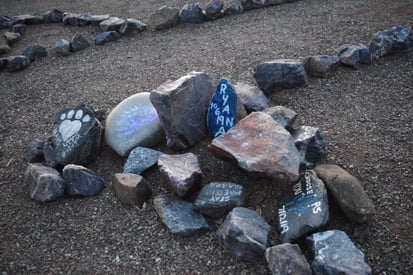 What happens during a Commencement Stone Ceremony?
Mitch continues, "The plan is, we'll walk outside, and as we approach the labyrinth, we think of a good wish for David. Whatever that good wish will be, keep that in mind, and as other thoughts come into your mind, focus back to your one wish for David. It will be easy to do because as we go through the labyrinth there are 34 turns. Each time you make a turn on the labyrinth, bring that one thought back to you. We're going to walk out to the labyrinth now. [After we walk the path] We'll huddle in the middle of the labyrinth, we'll set the commencement stone down, and then we'll huddle up back at the barn to debrief."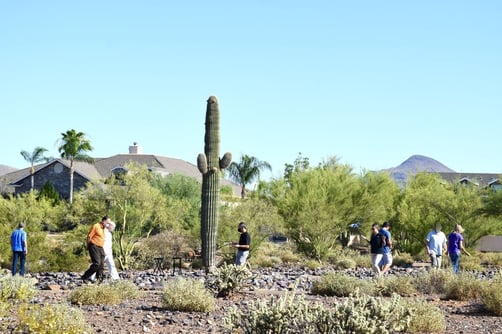 As individuals walk the path of the labyrinth, they are in solitude together. After 10-15 minutes of the walk, also described as a guided meditation, everyone meets in the middle. Team members take turns sharing thoughts about David, such as how they've seen him grow, why they are proud of him, and the differences they see in him because of his growth at Soberman's Estate rehab. Family members, present physically or via Zoom, share their thoughts and gratitude as well. The client then shares his thoughts on his experience, typically acknowledging the staff with gratitude, goals he has accomplished, ways he has grown, and a future he now looks forward to. Client family members share their feelings, often overwhelmed with gratitude and hope, feeling they have their husband/son/brother back. Clients build special bonds as they heal together for 3-13 weeks, and at these ceremonies, clients have given gifts to the new alumni, made 'game show' performances in celebration, and wrote and performed original songs for them. Clients also receive a special Soberman's Estate Commencement Stone Ceremony Coin, as a token remarking this achievement. This can be a very emotional experience for all participants, inclusive of tears, laughter, pride, hope, and joy.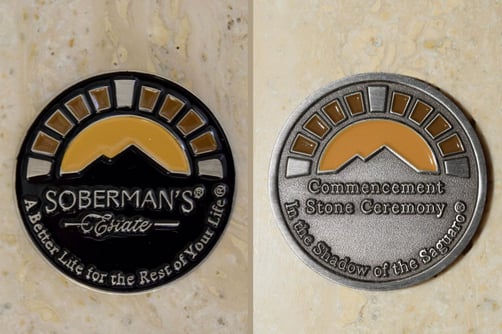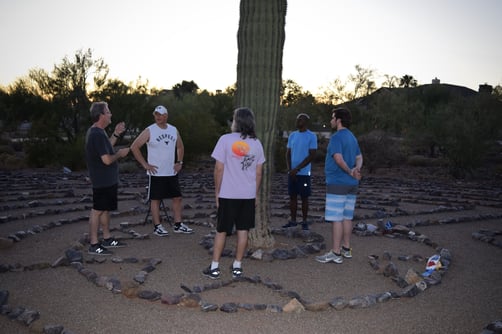 David shared, "Other places told me to let go of my anger and fear, but didn't show me how. At Soberman's Estate they not only taught me how, they held my hand during the process. The experience here was unexpected, and changed my life."
James H., another Soberman's Estate alumni, said, "Just to make myself clear, Soberman's Estate SAVED MY LIFE. Prior to admitting myself into their program, no words, thoughts, tears or threats meant anything to me, as I was in the depths of my disease and on a runaway train to hell. Soberman's brought to me a sense of calm, peace and an overall understanding of my addiction."
Another Soberman's Estate alumni, Frank D., said, "I was apprehensive about going to treatment, and now that I completed my 6 week stay, I feel like Soberman's Estate is like a Summer Camp for adult men with problems."
Where is a Commencement Stone Ceremony?
Typically, the entirety of the Commencement Stone Ceremony happens at the labyrinth. Though in the heat of a Phoenix summer, the majority of the speaking piece is done in the shade of the barn. Bonus: the equine therapy horses, Bailey and Cowboy, can participate! The chickens who make fresh eggs for Chef Jesse also participate by cockle-doodle-doing. The dogs, Ranger and Aspen, bring their love too.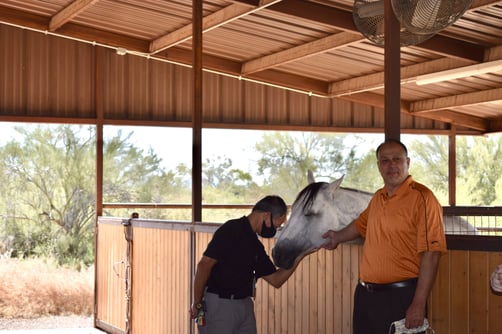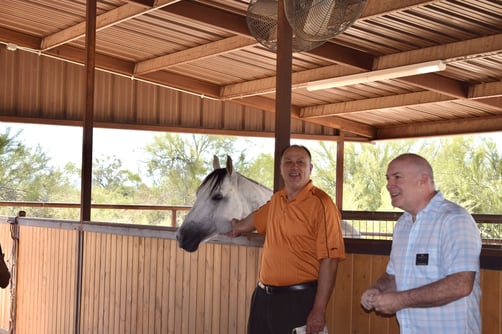 "The labyrinth" at Soberman's Estate is a special place. Built with indigenous purple stones from the Estate and Sonoran Desert, it is modeled exactly after a historic labyrinth built around the year 1200 at Chartres Cathedral by Paris, France. Labyrinths were relatively popular at Gothic Cathedrals in the Middle Ages, though many have been destroyed. Walking the path was sometimes seen as a pilgrimage for repentance. For many, the intention of this journey was becoming closer to one's higher self.
Today, clients, staff, and visitors of Soberman's Estate choose their own unique intentions when walking the path. No matter the century or location, there is undoubtedly a healing energy in the practice of walking a labyrinth. For example, one client came in months ago, demanding a Xanax, anxious as ever to start treatment. After being told to "walk on the path," the client simply walked through the labyrinth path, no intention setting, no meditating. After he arrived at the center, a team member came to check on him, and he had completely forgotten about the Xanax, and his anxiety had evaporated.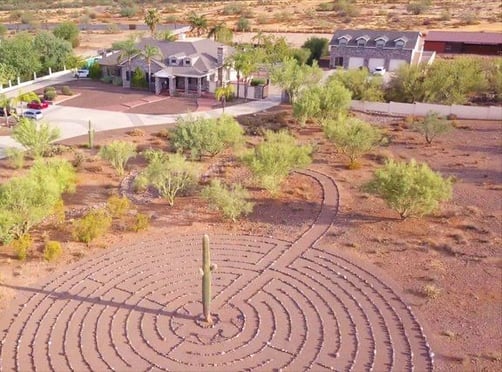 The labyrinth at Soberman's is also unique because in the center stands a magnificent Saguaro Cactus. At the right time of day, one can stand "in the Shadow of the Saguaro." This is how the location of the facility is defined – "in the Shadow of the Saguaro." The shade represents a place for rest and healing in the desert, physically and metaphorically.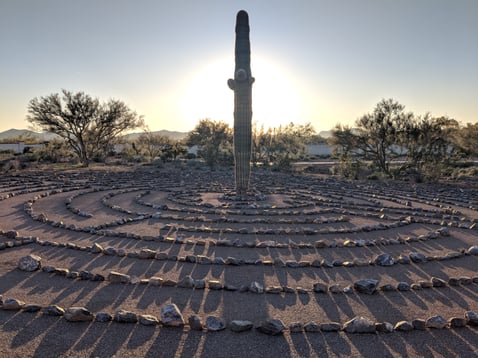 Fun Fact: Soberman's Estate Clinical Director, Frank Saverino, M.Ed., LPC, LISAC, has a tie with a photo of the Shadow of the Saguaro!
Who participates in a Commencement Stone Ceremony?
The Soberman's Estate team joins the new alumni, along with the other clients at the estate. There is a 10-bed maximum at Soberman's Estate which allows each client priority attention and individualized healing. Though there are about 25 team members, there are typically 2-8 on-site at any given time. Occasionally alumni family will join in celebration of this achievement. Each ceremony typically has 6-25 participants. "The Commencement Stone Ceremony gives all of us the time to stop and appreciate this huge milestone together. It is one of those life moments we should all embrace," said Sandi.
Those in recovery, or who have loved ones in recovery, know that the "real work" begins when clients leave a residential treatment center. "The memories from this time will help the clients whenever they need a feel-good pick-me-up in the future," says Sandi. Soberman's Estate facilitates an Alumni Program which helps alumni and their families stay involved in the recovery community, and offers any resources needed after inpatient treatment.