I remember my first encounter with yoga. It was my freshman year in college. I took a yoga class. I remember writing for an assignment, "You can use your breath to help with many different things." That was 14 years before I ever knew or thought that yoga and meditation would actually help save my life.
Throughout those 14 years between that first class and when I got sober, I practiced yoga purely for the physical benefits. I hated Savasana (the last pose where you just lay there). I thought I was way too busy to sit there and do that.
Enter 2016, struggling with alcoholism, trying to figure it out, relapse, relapse, relapse. In treatment and I am fighting mindfulness group. I think scanning through my body and laying on the ground is a waste of time. However, on those days I walk out lighter. I have more patience. I have my compassion for myself. I began to let myself see how much finding stillness is powerful and necessary in my recovery. I stopped fighting it and let it in. The rest is history. I get the basics from meditation and yoga, relaxation, peace etc. But it has evolved into so much more; manifestation, clarity, guidance, understanding, creation of who I want to be, and more.
What does yoga do for you in recovery?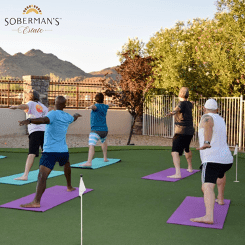 Makes you aware of you

Gives you permission to focus on you, your body, your mind, and your state of being, which all feeds self love.



Gives you a path to meditation

We live in a go-go, hustle society. You work hard, you get XYZ. You work harder, you get more of XYZ, they say. But we aren't taught to find stillness to absorb XYZ. Because of this, we don't allow this goodness to become a part of us, only the struggle and chaos of the hustle takes hold internally. Yoga gives you the opportunity to slow down, let your dust settle, find balance.



Creates space to acknowledge your goodness and check in with yourself, so you can ultimately meet your needs

You must slow down enough to do so. It gives you a safe space to feel uncomfortable in your own skin so you can begin to give yourself permission to release that and build yourself up.



Instantly connects you to the two most important parts of yourself; your human self and your spiritual self

Every pose has a grounding point (human/exhale) and a lifting point (spiritual/inhale). Having those in balance is imperative to sobriety and even more importantly, to happiness and peace.
So where do you start?
Inhale – Exhale and relax into your body. It is just that simple. Poses will develop. You start right where you are at, acknowledging when you start to force, control, or criticize yourself. When, not if; when that happens, you inhale – exhale and relax into your physical body again. You release your expectation on what the practice needs to look and feel like.
Our goal is not to have all of our thoughts go away. It is to get our thoughts to a state where they aren't so loud, big, scary, and intense. We slow our thoughts down by slowing down our breath. Inhale – Exhale, relax your physical body into your grounding points. Rinse and repeat. Build your foundation and watch the miracles happen.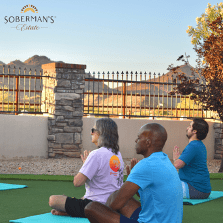 By Gretchen Seeck
Hi! My name is Gretchen Seeck. I am a recovering alcoholic. Sobriety date May 26, 2016. I teach meditation, yoga, and reiki in group and one on one settings. I adore my job & love how I have the power to help in this capacity.