When you care about someone who is struggling with addiction, it can be difficult to know how to help. You may feel like you are enabling their addiction by continuing to support them, but at the same time, you don't want to see them suffer. It's a delicate balance, but ultimately, if you feel like your friend's addiction is out of control, it may be time to consider getting them into a great addiction facility.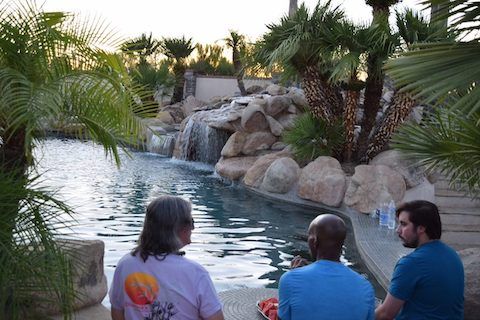 The Conversation About an Addiction Facility
The first step is to have a conversation with your friend about their addiction and your concerns. It's important to be honest and open in this conversation. Let them know that you are worried about their wellbeing and that you want to help them get the treatment they need. If they are resistant to the idea of going to rehab, try to listen to their concerns and see if there is a way to address them.
It can be difficult to confront a friend about their drug or alcohol abuse, especially if you're not sure how they will react. A good recommendation would be to consult with a professional Interventionist. A professional Interventionist may recommend that you have this conversation with your friend to help them get the treatment and support they need.
Here are some tips for how to approach this delicate topic:
Choose the right time and place to talk. You'll want to pick a time when your friend is sober and receptive to talking. Perhaps your friend will be receptive the day after heavy drinking or using when he is feeling remorseful. It is also important to find a place where you feel comfortable talking openly and candidly.
Be honest and direct in your conversation. Tell your friend that you're concerned about their drinking and why you think it's becoming a problem. Avoid judgmental language or lecturing them but do express your concerns in a direct and honest way.
Listen to what they have to say. It's important to give your friend the opportunity to share their side of the story. They may have some valid reasons for why they're drinking or using, even if you don't agree with them. Really try to listen to and understand their perspective.
Offer support and resources. If your friend is willing to talk about getting help for their addiction, offer to support them in this process. let them know that you're there for them and want to help them get better.
Once you've had this initial conversation, follow up with your friend to see how they're doing. If they're not ready to get help yet, continue to express your concern and offer your support. Remember that this is a difficult issue to deal with, so be patient and understanding with your friend.
Research an Addiction Facility
If your friend is open to the idea of going to an addiction facility, the next step is to do some research and find the best fit. There are many different types of facilities, so it's important to find one that will be best for your friend. Consider things like cost, location, and the type of treatment they offer. Once you have narrowed down your options, you can reach out to the facilities and get more information about their program.
When choosing a drug and alcohol addiction facility, there are a few key factors to look for. First and foremost, you want to make sure that the facility is accredited and offers evidence-based treatment methods.
You'll also want to inquire about the staff-to-patient ratio, as well as the average length of stay at the facility. Additionally, be sure to ask about aftercare planning as that can be as important as the initial treatment itself.
Features to look for in an addiction facility
1. A variety of treatment options
Addiction treatment should be tailored to the individual, so it's important to find a facility that offers a variety of treatment options. From inpatient to outpatient care, there should be a range of programs available to meet your friend's needs.
2. Experienced staff
The staff at an addiction rehab facility should be experienced in treating addiction and supporting recovery. They should be able to provide you with all the resources and support your friend needs to successfully recover from addiction.
3. A comfortable environment
Addiction treatment can be challenging, so it's important to find a facility that provides a comfortable and supportive environment. From the physical setting to the way staff interact with patients, the patient should feel like they're in a safe and welcoming place.
4. A focus on individual needs
The best addiction rehab facilities will tailor their programs to meet specific needs. Whether your friend is struggling with an alcohol addiction or drug addiction, or gambling or sex, you should feel like the program is designed just for your friend.
The Transition to an Addiction Facility
Finally, once you have decided on an addiction facility, you will need to help your friend make the arrangements to go. This may include helping them with transportation and getting their affairs in order. It's important to be supportive throughout this process and remind your friend that you are there for them as these days will be trying ones.
There are a few things you can do to prepare your friend for entering a drug and alcohol rehab facility. First, you should make sure that they inform their doctor about the decision to enter treatment. Second, you should ensure that they have all of the necessary financial documentation in order, and this includes insurance paperwork and any documentation regarding their ability to pay for the treatments. Finally, you should help them pack a bag with any personal items that will help them feel comfortable during their stay in rehab. Remember, it could be several weeks or even a month that they'll be gone. These items might include clothing, toiletries, books or magazines, and personal items. Most facilities will provide a packing list.
Help them after they finish treatment
After your friend completes addiction rehab, they will need continued support. Help them stay on track by attending therapy sessions with them, participating in sober activities together, and offering encouragement and understanding. Each day might be a bit easier than the last, but the struggle is real, and this is the time what your friend will really need to know that they can depend on you and lean on you.
Getting a friend into rehab can be a difficult process, but it's important to remember that you are doing it because you care about them and want to see them get better. With your help, they can overcome their addiction and start on the path to recovery.
Soberman's Estate is a residential men's addiction treatment center that provides discreet, individualized, sophisticated recovery and wellness services for adult men that want to recover from substance use disorders, and or other behavioral issues such as trauma, anxiety, depression, stress, or other addictions.