This month serves as a reminder of the vital role physical activity and sports play in our lives. At Sobermans Estate, we recognize the importance of incorporating fitness into the recovery process for our clients. Clients of Soberman's Estate enjoy a variety of supervised physical fitness (Gym, Yoga, Thai Chi) an average of 5 days a week.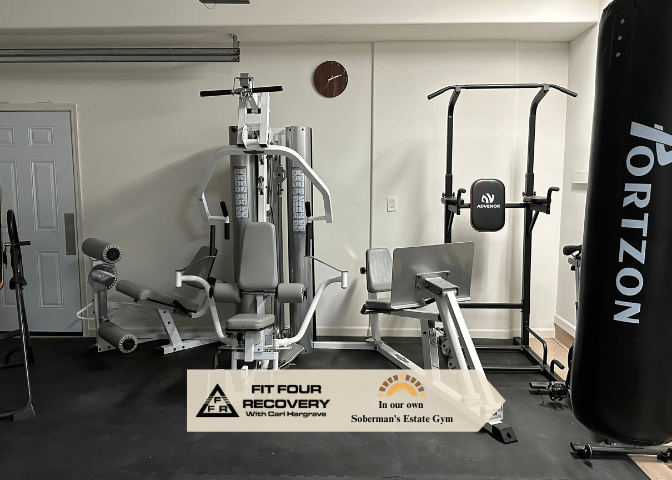 The Sobermans Estate Difference:
Our dedicated Fitness staff at Sobermans Estate, led by Coach Carl Hargrave, is passionately committed to providing an unparalleled experience for individuals who are seeking to make a dynamic change in their lives. We understand that the path to recovery is unique for each individual, and we offer personalized support to ensure our clients are equipped with the tools they need for lifelong sobriety. We aim to empower men on their journey by addressing the physical component of recovery and promoting healthy lifestyles.
Coach Carl shares his approach to fitness and recovery through his Fit For Recovery (FFR) Scope of Empowerment:
I applaud the men wanting to make a dynamic change in their lives, for trusting the process of engagement at Sobermans Estate. The staff is tremendous, and the facility is unparalleled in its efforts to give the clients the tools needed as they walk the walk. More importantly they learn how to use the tools to have lifelong sobriety.
FIT FOUR RECOVERY! Addresses the physical component of recovery, creating long-term healthy lifestyles. We empower the clients through encouragement and action, while focusing on four essential elements to help our clients build physical and mental resilience during their recovery journey.
1. Cognitive Empowerment: We engage our clients in discussions about how they can maximize their current space and time to reach their full potential. By understanding their unique abilities and challenges, clients can better prepare themselves to walk in the field of life as they face the many obstacles they may encounter in their daily lives.
2. Physical Engagement: We engage in various exercise routines, to elicit the natural endorphins, helping to create that feeling of accomplishment. Through regular physical activity, clients can build self-confidence and self-esteem that will serve them well in their sobriety journey.
3. Exercise Integration: We believe that every phase of exercise can be related to the recovery process. With this in mind, we incorporate elements of endurance, flexibility, strength, and power into our FFR program. By connecting these exercise components to recovery, clients can better understand how physical fitness supports their overall well-being.
4. The Power of Teamwork: The guidance of our experienced coaches, Coach Carl and Coach Travis, plays a crucial role in the success of our FFR program. By working together with our
clients, they foster a supportive environment where clients can grow, learn, and ultimately achieve their goals.
Coach Carl, Coach Travis
Soberman's Estate is a residential men's addiction treatment center that provides discreet, individualized, sophisticated recovery and wellness services for adult men that want to recover from substance use disorders, and or other behavioral issues such as trauma, anxiety, depression, stress, or other addictions.